There are few businesses that we work with which give us a truly sensory experience, but Green Partners Ltd is definitely one of them. When you enter their facilities in Spalding, Lincolnshire you are greeted with the powerful, intoxicating aroma of flowers – thousands and thousands of colours and scents – you can't help but feel uplifted.
Green Partners is the largest supplier of cut flowers and bouquets in Europe, processing and delivering fresh, wrapped flowers to supermarkets and independent retail outlets across the continent.
Their UK facilities in Spalding, Lincolnshire, are perfectly placed to process and distribute in excess of 1.6 million boxes of flowers each year to supermarket chains throughout the UK. Selections of bouquets are carefully wrapped and placed in buckets, which are then boxed, ready for shipping. This allows the retailers to simply lift a bucket full of flowers out of the box and place it directly onto the display stand.
Identifying the high cost of labelling boxes by hand
Preparing, selecting and carefully wrapping flowers is carried out by hand by Green Partners. The process of applying outer labels to packed boxes of flowers was also done by hand, however, it was inefficient and becoming increasingly costly.
The labels for the boxes were being printed using desktop printers which were expensive to repair, adding to the cost of maintenance, as well as the cost of the labels and printer ribbons.
Two staff members were assigned to labelling boxes – one to print the labels and one to hand apply them; one person had to hand apply an average of 28,000 labels per week, increasing to up to 72,000 labels during peak seasons such as Christmas and Mother's Day.
Finding a way to automate outer carton printing
Finding a cost-effective solution soon became a priority for Green Partners. They had identified the problems and the associated costs – they now needed help with choosing a solution that would easily integrate with their production lines.
Rotech was contacted by their Operations Manager, John Berry, who was interested in our large area printers following a previous successful installation in Holland. Rotech Service Engineer, Darren Golder, visited the Spalding site to carry out a survey, evaluating their production process and printing requirements.
Flowers are placed in buckets which travel along 5 different low-line conveyors – making it easy for operators to insert the flowers. The buckets are then manually placed in boxes which travel past a strapping machine before labels are applied.
The ideal solution was to fit a large area printer directly onto each line, which prints the information directly onto the box just prior to strapping.
High-volume, direct to carton printing
The solution was to install a Rotech Seiko X72 Printer onto each of their five lines. The printer uses the latest printhead technology to apply high-resolution, large area prints directly onto any porous surface – ideal for surfaces such as cardboard, paper and wood.
The X72 uses unique Freeflow™ technology; the printhead draws the ink from the main tank, consistently applying high-quality prints to areas of up to 72mm in height at speeds of up to 45 metres per minute.
Easy integration with production lines
One of the many benefits of the large area Seiko printers is that they can slot so easily onto existing conveyor lines. As manufacturers of coding and marking systems, Rotech were able to produce simple, fully adjustable frames to affix each printer directly onto each line, allowing users to easily adjust the printer height or position as required.
Each printer also comes with its own 20" full colour Windows® OS touchscreen controller which easily with their ERP system, allowing them to schedule line runs and print information so that the entire process is automated.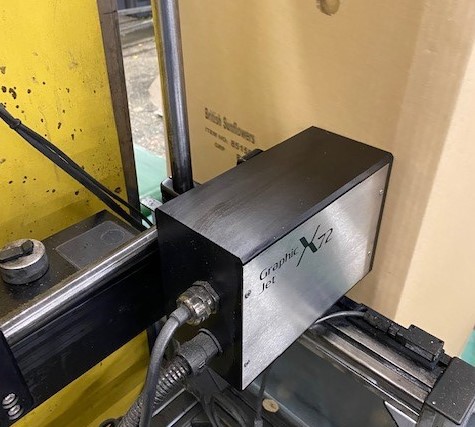 The cost-savings of automated large area printing vs hand labelling
Green Partners have made significant savings across a number of areas. Since installing the X72 printers just under a year ago, they have saved around £2,000 on printheads and maintenance, £1,000 which was previously spent on labels, and around £45,000 on labour costs.
John Berry said "The simplicity of the units has been the key point, and the ease of integration made it possible to move and run in everyday production.  When we recently moved to our new premises, it was made simpler due to the simple framework that allowed us to quickly continue production".
"The cost-savings have been significant for us" Berry continued. "A price per print study was recently carried out in Holland where they use the same printers and it worked out at 2.6p per thousand prints." 
Green Partners now have no downtime – they simply fill the ink tanks as required (indicated by the printer controller) whilst the printer is still printing.
Since the installation, Green Partners have installed a further two X72 printers, bringing the total to seven.
These simple, cost-effective outer carton printers have not only transformed what was previously a time-consuming and costly process, they have undoubtedly come up smelling of roses and won the hearts of those at Green Partners!