Ti-Series Thermal Inkjet TIJ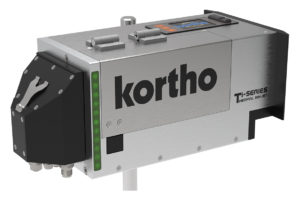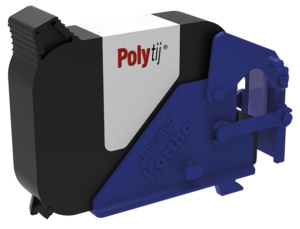 Instant dry on product, Never dry on nozzles
Bad prints, purged ink spills and clogged half full cartridges. Notorious TIJ issues due to dried nozzles. Known solutions are to cap or interval purge when not printing. But taking the cartridge out and capping manually is user unfriendly and often forgotten. And constant purging makes a mess and also wastes ink. Enter our patented Robocap™ system! Nozzle maintenance is fully automated. But now the cap and purge ink collector are part of the consumable instead of the printer! Meaning that they are renewed along with each cartridge exchange! This not only allows for the use of a truly hermetic soft silicone cap, but also that just one single purge is needed regardless of how long the printer has been idle. Which, on top will be clean as purging is done onto a disposable pad that is constantly renewed! The result: Always perfect first prints, clean operation and zero human interaction needed.
POLYTIJ: 200%+ Higher adhesion than any other TIJ inkjet
With open time no longer being a factor, Kortho Ti-Series TIJ allows the use of faster drying inks than any other TIJ. Without downsides nor compromises! This is why the Ti-Series is developed especially and exclusively for POLYtij™ ink. Manufactured by Digital Ink Technologies in Australia, this ink uses polymer resins for adhesion instead of solvents for absorption. Giving it a 200%+ higher adhesion than any other TIJ ink, while instantly drying on even the most difficult non-porous substrates like glass, metals and plastics. Effectively offering the only TIJ ink with real CIJ performance, but at TIJ pricing, zero maintenance and complete worry-free operation!
Smart, Omnicompatible and  100% Industry 4.0 Ready
Next to offering our own Kortho Control Center LMS software for free, Kortho also specializes in being omnicompatible with as much third party label and control software as possible. This makes you free to objectively choose the best software and control method for your application! Smart,
tailored and error-free coding has never been so accessible. From standalone use to full Industry 4.0 cloud ERP integration: A Kortho printer makes any custom requirement easy to implement by adjusting itself to your coding need, and not the other way around!
SLIMLINE: Save up to 50% on Equipment costs
Like with our software, also the use of our Printerface IoT controller is optional. Just install our free
Kortho Control Center app on any PC, server or (mobile)device and control any number of printers from there! This makes the ratio between printers and controllers 100% flexible: From an Individual controller for each printer, to full factory control from one single terminal. The more centralized control, the more you save on controllers! We call this SLIMLINE™, which stands for Smart, Less Is More: Save up to 50% on unnecessary equipment by using the infrastructure that you already have!
---
Features of Kortho Ti-Series
Patented RoboCap™: Cartridges are automatically capped when not printing and if needed purged into a disposable collector right before a new first print. Effectively resolving TIJ clogging.
---
Patented RoboCap™: As the cap and purge collector are part the cartridge they are also frequently renewed. This prevents wear and old ink accumulation from compromising their workings
---
POLYtij : CIJ PERFORMANCE
POLYtij™ Ink: Brings true CIJ non-porous performance to Thermal Inkjet. Offering an instant product drying time and a 90+ rub resistance adhesion on metals, glass and even plastics.
---
The empty cartridge is offered for exchange away from the print position. Offering a safe and easy exchange clear of the products and the production line.
---
By constantly renewing cartridge and nozzle maintenance station the Ti-series needs no human interaction and no maintenance.
---
Save current image of any connected printer profile including all labels and settings. This allows for the quick and easy recovery of previously used printer settings.
---
Built according to SLIMLINE™ Smart, Less Is More philosophy. Save costs on controllers by operating multiple printers from one single terminal. Maximizing central control benefits.
---
Printer integrated dual RGB LED strips and full color status screen facilitates the use without (nearby) HMI, but also avoids the need for additional signaling equipment.
---
KORTHO CONTROL CENTER GUI
Operated with Kortho Control Center (KCC) software. Free and very complete platform designed to make Industry 4.0 coding easy and quick to implement. See separate KCC leaflet for details.
---
Open platform and Windows native OS.
Especially designed for extended communication options with third party software. Including Windows generic network driver and 350+ commands protocol.
---
Full printer diagnostics including real-time scope traces of the physical status, position, speed and trajectory of all internal wearing and moving parts.
---
Kortho was founded in Amsterdam in 1926 and is still a Dutch family owned business today. Like all our printers the Ti-series is 100% made in The Netherlands.