Kortho and Nicelabel for flexible, flawlessly working equipment

For some years on now Kortho works together with the well-known software producer Nicelabel.  It brought a new era for the printermanufacturer Kortho from Katwijk. In addition to the standard standalone encoding equipment Kortho made it also possible to manage her High-Res inkjet and Thermaltransferprinters (TTO) from a centralized Windows environment.
Kortho is a fully certified Nicelabel Platinum and Enterprise partner. With this Platinum and Eterprise certification Kortho achieved the highest in-house knowledge level for Nicelabel software and its application.
A solution direct from stock for every coding demand with Kortho
Sales director Meindert de Groot: ' the core of our company is still developing, producing and selling thermaltransfer (TTO) and inkjetprinters (High-Res). However, with the integration of Nicelabel software Kortho transform itsselves from pure hardware manufacturer to a total supplier of coding solutions. We provide all the hardware needed to code a package and in addition, with Nicelabel we also have a softwarepackage that can control this hardware and is easy to operate. ' Nicelabel can both process static and variable information", fills in application engineer Dick van Rijn. "And the most beautiful is that this directed from a Windows-based environment. That makes configuring simple and stable, but, above all, affordable. With one click the user can a put a function on or off. It's like a toybox with wooden blocks. The customer fills in the wishes and build the application up for an affordable price.  Working with this add-on/off construction every conceivable coding wish contains basically a standard "on the shelf" solution. This guarantees a very fast, stable and easy to maintain software solution at low costs without the need of customer-oriented programming.'
Printerdriver
Early 2000 Kortho took the first steps in controlling printers from a centralized location. At first the company initially used proprietary software. It proofed to be very costly and cumbersome for the customer as every deviating or specific wishes had to be built into the software afterwards. A time consuming and costly affair. In 2013 Kortho contacted Nicelabel, a software developer from Slovenia. NiceLabel is the world's leading developer of Windows drivers for thermal label, color label and direct marking printers. NiceLabel is also a Microsoft Gold Certified Partner, Oracle Gold Partner and SAP partner. Kortho developped it's own printerdriver with 100% Nicelabel compliance. So Nicelabel is compatible to print with every suitable Kortho printerconfiguration on any packagingline. The right coding solution for each stage of production. De Groot then demonstrates with which ease Nicelabel can create labels or change them. In no time a layout is created or retrieved from the Nicelabel library. Once the layout of a label is determined and filled with the static information (for example, a logo, brand name or product name) the user adds the variable information, such as a date, batch number, time, et cetera. Nicelabel retrieves this type of information from any database, without the need to enter this data all over again in yet another database. With a simple mousclick the operator selects the printer and label. The packaging line is ready for production!
Clientcase: Allergens Directive.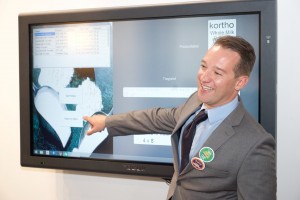 How simple and convenient nicelabel works, demonstrates Kortho with her coding solution for the new Allergens Directive.  This Directive came into force on December 13, 2014.  According to this Directive, foods allergens must be clearly highlighted by the producers in or italic, bold or underscore.  In Nicelabel a operator selects  a smartlabel template and assigns it to the appropriate printer. The smartlabel makes a connection with the external databases and retrieves realtime variable data while printing. Allergens are highlighted realtime at the moment of printing.  By checking the freely available allergentable Nicelabel is always up-to-date. Then Nicelabel automatically recognizes the allergens in the label and highlight them accordingly in the pre-defined allergen layout.
A custom made Operator screen created in Windows is also possible. All printjob parameters are put behind one or more buttons. The operator can choose the desired printjob via touchscreen or a barcode scanner. Incorrect codings are excluded just by simplifing the  selection of the printjob with just using buttons, avoiding the possibility to alter the beneath pre-set parameters.
'An On-Shelf stocksolution for each imaginable coding need'
Total supplier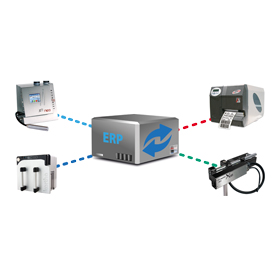 The allergens application is just an example of the wide range and continuously expanding built-in solutions integrated in Nicelabel. Future label changes by, for example, new legislations, new technologies, customer requests or product modifications are easily and quickly adjusted and integrated in Nicelabel. De Groot: ' Numerous features combined with the low price of Nicelabel, about 1,000 euro, makes it an interesting and more affordable alternative compared to the sole brandprotected, expensive operating systems of our competitors. In short, by adding Nicelabel in our productrange, we never have lost sales '.
De Groot: ' We fill out all coding needs, for both hardware and software. And all with a transparent, open and standardized softwareprogram like Nicelabel. '
Adapted from: VerpakkingsManagement 08-2014.
­