Printerface IoT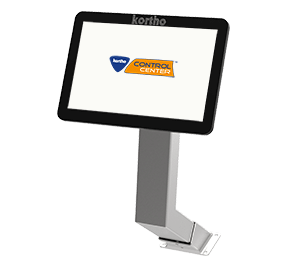 ONE CONTROLLER FOR ALL YOUR PRINTERS
The Kortho Printerface IoT is the universal controller for all Kortho printers. Next to using it one on one, it's also possible to control multiple printers with one single controller. Even if they are totally different models like thermal and inkjets! Just operate all printers from the same user-friendly interface.
SAVE MONEY AND SPACE AT THE PRODUCTION LINE
By just needing one controller for all printers a lot of money can be saved. Secondly, by not having to put up all these control boxes there's a lot more free space at the production line. The amount of printers that can be controlled with one Printerface IoT is unlimited. The more printers, the bigger the benefits.
OMNICOMPATIBLE WITH ALL SOFTWARE AND ERP SYSTEMS
The Kortho Printerface IoT has a full Windows 10 OS. Because of this you have full Windows functionality in the GUI. This means that any Windows software will run directly on the controller. So if for example you wish to control your printers with Nicelabel or Bartender no additional PC will be needed anymore.
SPECIFICATIONS KORTHO PRINTERFACE IoT
Universal controller for all Kortho Thermal and Inkjet printers
Next to one on one use also multiple printers can be controlled with one single Printerface IoT. Even if the printers are completely different models
Kortho Control Center and Windows 10 software included
Third party software like Nicelabel or TeamViewer will also run directly on the controller. No additional PC is needed anymore
Additional accessories like a mouse, keyboard or (barcode) scanners can be connected directly onto the controller
Design and manage all your labels directly on the controller (WYSIWYG)
Unicode and TrueType fonts in all system menu's, keyboards and label autocodes/counters
Directly compatible with any ERP system and/or production PC's
100% WYSIWYG print preview
Real-time printing from multiple databases (ODBC)
Operator screen can be custom configured to specific need or application
Full Windows functions in the GIU
Can be mounted onto horizontal or vertical surfaces
Impact resistant silicone housing for touchscreen interface
Powder coated stainless steel support bracket